Setting the Stage for a Pleasurable Experience in the Heart of the Finger Lakes Wine Country
L

eave your world behind and come to ours …

A Stone's Throw B & B is the ideal romantic getaway, nestled within pastoral views, between Cayuga & Seneca Lakes. Enjoy our amazing ten column wrap around veranda. You might catch a glimpse of an Amish horse drawn carriage clopping by as you glide on our porch swing. Sip freshly brewed coffee and savor homemade biscotti. Share a bottle of vino by our garden pergola or just cozy up in the hammock for two. After dark watch shooting stars under a clear night sky.

A Stone's Throw is the perfect spot to refresh for you journey throughout the Finger Lakes.

 
J

ust a stone's throw from …

SIP – Lucas Vineyards 2 mi…Shepherdess Cellars 2.4mi…Finger Lakes Cider House 3 mi…..Americana Winery 5mi…Garrett's Brewing …Sheldrake Point Winery 5 mi…Thirsty Owl Wine Co. 7.5 mi….Wagner Winery & Brew Co. 8 mi…Lamoreau Landing 8 mi…Two Goats Brewing 15 mi.

TASTE – Lively Run Goat Diary 2 mi….Hazelnut Kitchen 7 mi….Dano's of Seneca 9 mi….Stonecat Cafe 14 mi.

EXPLORE – Trumansburg 7 mi….Taughannock Falls 10 mi….Ithaca 16 mi….Watkins Glen 22 mi….Seneca Falls 24 mi….Geneva 27 mi.

 
What Our Guest Say….
.
" A delightful respite….the decor is warm, inviting, lovely, tasteful and artistic. Everything is thoughtfully located. We truly appreciate Gina and Tony's attention to detail and care for the environment. Their warm hospitality exceeds expectations. It is truly a tranquil place to stay with outstanding food and stimulating conversation. Already looking forward to coming back. J & C – Westchester, NY.
"What a delightful place to unwind – so inviting and relaxing.Would absolutely recommend this B & B. The atmosphere, the company are so enjoyable, Would absolutely come back." D & J Baldwinsville, NY
"There are almost too many wonderful things to say about our stay here at your B & B. From the perfectly appointed rooms with lots of little touches … organic products, chocolates + more) to delicious morning breakfast, biscotti, and the very comfy beds…Your location is perfect – truly a stone's throw to many great activities.We have stayed in a number of B&B's over the years and this is by far one of the best…" S & S Rochester, NY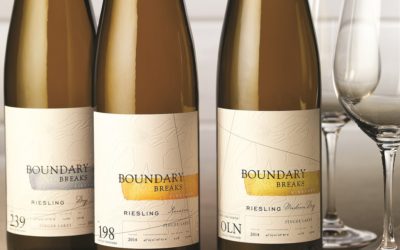 2019 vintage Riesling Dry #239 listed a respectful 87 December issue 2021 of Wine Spectator Magazine Boundary Breaks stated, "Every year, we aim to make a fruit-driven, dry Riesling which has an explosive flavor profile. To achieve this in 2019, we held off harvesting...
read more