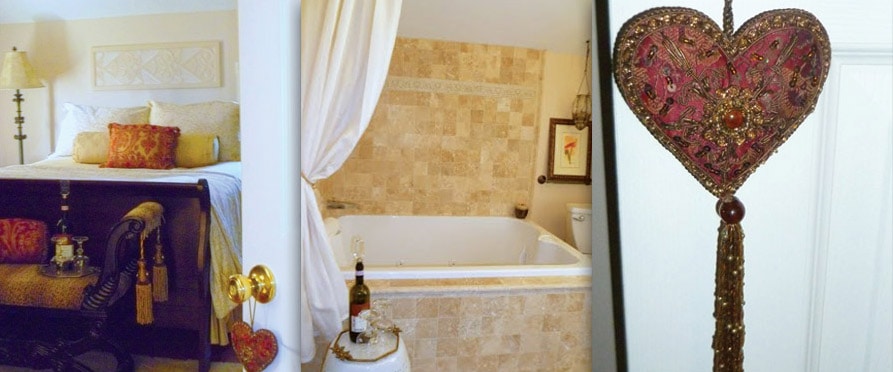 La Buon' Amore – Good Love
                        $175.00
Ode to amore and romanza. Enjoy the luxurious feel of this elegantly decorated room.
Experience the rich burgundy and tan décor. A boudoir dressing table behind a flirty silk curtain – evokes the glamor of days past. The inviting well appointed queen pillow top bed – all create a perfect romantic ambiance.
Top your evening off with an enticing soak in the luxurious double whirlpool bath & shower- the mood lit colored water can help set the evening tone.
Then feel light years away as you recline in a soft terry robe.
Sweet dreams!
What Our Guests say about A Stone's Throw….
"We thoroughly enjoyed our stay – a wonderful place to spend a 2nd anniversary! Loved the tub – very romantic, the room was beautifully decorated with attention to detail. Definitely exceeded our expectations. Breakfast was spectacular! The biscotti reminded us of when we were married in Tuscany."     N & G ~ Toronto, Canada
"From the moment we stepped on to your porch, we knew this was the place for us. The bedroom was so peaceful. We had a wonderful stay. Our chef, Tony, thank you, your breakfast was to die for. We'll be back! MJ & P W. Williamsville, NY