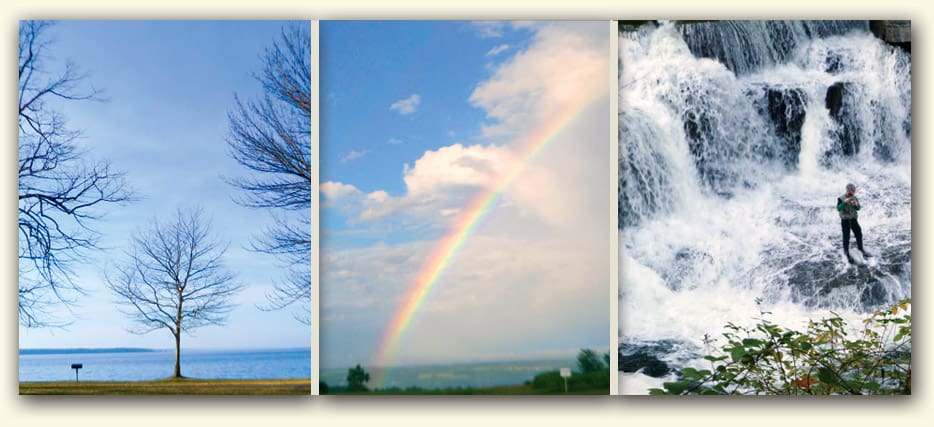 Some of Our Favorite Things to Do  + Area Tours
1. Take weekday afternoon scenic drive to Lodi Point on Seneca Lake. It is easy to find the perfect spot for a refreshing dip in clear waters while watching the sun go down.
2. Enjoy the beautiful Good Life Farm surroundings at Finger Lakes Cider House. Experience a variety of artisan ciders and do try the yummy, fresh food pairings.
3. While exploring one of the smaller waterfalls at Taughannock State Park…tip toe onto the flat rocks, unpack lunch and feel like you're in the perfect setting on a postcard.
4. Explore the Finger Lakes with the perfect guided tour – Experience The Finger Lakes. Find winery, gorges, waterfalls, to cooking classes and more. This special tour service has it all. You can join, some of the tours – just a stone's throw away in Trumansburg.
5. Explore the amazing plants and vistas at the serene Plantations. Follow by a short drive to exotic shops on the Commons and topping off the day with a wholesome meal at Moosewood Restaurant.
6. Go for an early Saturday morning excursion to The Windmill Farm and Craft Market, with over 200 vendors, and on the return trip – hike at Watkins Glen State Park for views amazing vistas and gorges – that are sure to enhance your peace of mind.
7. Eat at some of our favorite restaurants enjoying farm to table delicious cuisine – Dano's On Seneca Lake , Stonecat Cafe on Seneca Lake both Hazelnut Kitchen, & Atlas in Trumansburg – Kindred Fare in Geneva , Ithaca's Gola Osteria.
8. Enjoy a "Happy 2 Hour" late afternoon, delightful cruise or 4hr. Wine Tasting Cruise on Cayuga Lake – in Interlaken across from O' Malley's Cabin on the Lake. A great place to enjoy good food or just relax in an Adirondack chair & view the lake. If you prefer a cup of great coffee/a homemade sweet delight or gourmet sandwich visit The Busy Bee Market next door. You can also rent bicycles, kayaks and paddle boats.
9.. Enjoy the Ithaca Farmers Market at Steamboat Landing early Saturday or Sunday morning or Trumansburg Farmers Market Wednesday afternoons for farm fresh food, flowers, crafts, friendly conversation and great music.
1o. Sway to music and great eats at the Americana Vineyards – The Crystal Lake Cafe'. Great sounds and tasty bites, both Friday and Sunday late afternoons. The Cafe is open daily for lunch and dinner.
11. Two Goats Brewing Co. the owners description is best – " a solar powered Brewpub on Seneca Lake with good beer, good beef and good people". The lake view is AMAZING!
12. Bike or drive on the seemingly endless scenic highways – Routes 414, 89, 96 and 96a offering pastoral and lake views full of new sights and the freedom of the open roadways.
13. Traveling on 96 S? Stop in at Wrap It Up Gift Shop. Get the feel of Finger Lakes Craftsmanship. Find a variety of crafts from 79 local craftspeople.
14. Visit Skyland Craft Gallery– Rt. 414 – featuring unusual artwork by local artisans and walking along the Stone Medicine Circle in front of the gallery before leaving.
15. Traveling on 96N find the grand Ventosa Vineyards offering lake vistas and Toscana Cafe offering light Italian food daily till 5 pm. A short distance away experience the 3 Brothers Winery (3 eclectic tasting rooms including a microbrewery) & Zugibe Vineyards (a beautiful lake view) . Just before you get to Rt 5/20 find a great harbor side restaurant – Crow's Nest – terrific to watch the sunset while dining on the outside porch. Continue onto Rte 5/20 towards Geneva -take in the panoramic views of Seneca Lake along endless walking pathways.
16. Imagine a guided horseback riding experience in the Finger Lakes National Park…..Yes! Exciting! Peaceful! Just Beautiful! D & K Ranch have friendly horses and knowledgeable guides.
17. Enjoy great views of Cayuga Lake while sipping beer under a covered porch at the Boathouse Beer Garden.
18. A chocolate or lavender lover? An easy stop, while on the Seneca Lake Wine Trail. Consider visiting Rue Claire Lavender Farm and Chocolate Shop.
19. We love the local waterfalls and gorges that in the area. Enjoy a hike, picnic or just ponder the natural beauty of the area. Visit Ithaca.com has put together a wonderful list of links of many of the area waterfalls and gorges.
20. In case you would like additional information about the Finger Lakes visit Finger Lakes.org or Finger Lakes.com .
Area Tours……….
Follow A Stone's Throw Bed and Breakfast's board Finger Lakes Gorges & Waterfalls – Hiking & Biking on Pinterest.
What Our Guests Say About A Stone's Throw…
"Thank you for your hospitality, we had a wonderful time. Your property is so beautiful and we can feel the love you put into it. We're so glad to have found this gem and look forward to coming again." G & M ~ Cornell University
A Stone's Throw is centrally located between Cayuga and Seneca Lakes – named for its location between the lakes. You can definitely find something to do just a stone's throw away.
Check out these links: